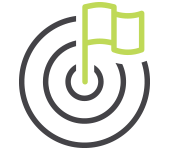 Programmatic Advertising
Programmatic Offerings:
At ODDS Marketing, we offer customized online targeting through programmatic advertising. Imagine you could target users based on their entire online behavior and demographic profile. Imagine targeting users based on their GPS location history. ODDS Marketing can do all of that, and MORE! All of our campaigns come with fully transparent reporting and are a combination of AI learning and human optimization.
Our Campaign Quality:
To deliver better brand protection, better results and help deliver our performance guarantee ODDS Marketing does not buy Below The Fold Inventory. This greatly eliminates poor performing ad impressions.
Types of Targeting We Offer
Why Invest in Email Marketing?
Email newsletters can deliver $44 for every dollar spent. – LiveIntent
Email is cross-device and offers scale to reach anyone on any device
Works well with other platforms like retargeting, Device ID, and IP Targeting
Email is brand-safe and protected from fraud. Programmatic Email allows you to target the right audience with a message that is specific and unique to your business.

LET US GET
THE
RESULTS
YOU NEED
we'll show
you how it's
done
Really though…