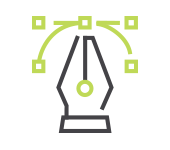 Design Services
First Impressions
First impressions are important. Far too often, brands fall flat in appearance, even when the people, products and services behind the name are amazing. ODDS Marketing provides graphic design support that renews and revitalizes the look and feel of your brand. Like your marketing campaigns, every tool and tactic must be custom-tailored for your marketing objectives. Within brand integrity of course, our design team stretches your brand to evoke the right emotion, maintain integrity and show major depth and reliability to your target audience.
Strategy-Driven Design
There are always ongoing graphic design needs. From updating print collateral with newer information, jazzing up a new sales presentation or the routine refreshing of your website's photography and supporting visuals, our designers have your back. You need someone on call who understands your brand and intuitively knows when something needs to be jump started or spruced up. Our ODDS Marketing graphic design support offers you many things, including peace of mind. With skilled professionals just a quick call or email away, you'll have photoshop magic, vector tricks and digital graphics mastery right then and there.
LET US GET
THE
RESULTS
YOU NEED
we'll show
you how it's
done
Really though…