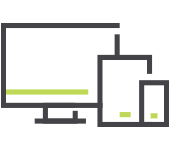 Websites
Put your Website to Work
Welcome to the digital age with data-proven and deeply analyzed UI/UX reporting. User experience tells us that the best sites are updated regularly.
Picture this: You've invested capital in the strategic creation of your brand. Following our process, you have creative, brand specific messaging and marketing tactics being implemented on a monthly basis. Where is home base for everything? Look no further than your website. For nearly every business, the website becomes the hub for their brand. From adding content to switching out graphics, your website should be dynamic, not stagnant. When you routinely improve your website, you generate engagement, leads and conversion.
Ongoing Maintenance
Management of your website and every system within it can be time consuming. You can rely on our trusted developers to keep your website maintained and well-kept. From monthly technical updates to added security or tracking, our team keeps a close eye on your site.
LET US GET
THE
RESULTS
YOU NEED
we'll show
you how it's
done
Really though…